Streamline your international supply chain with
Ensologic Commerce
Connect with global suppliers, and easily manage cross-border shipping and payment. Connect Ensologic Commerce today and get access to new international markets!
Assured Quality. Everytime.
One-Stop Service till your doorstep.
For Enterprises
Source Goods Internationally with Ease.
With Ensologic, International B2B purchase become as simple as sourcing the goods from a local supplier. With Our network of elaborate suppliers, find the best-suited supplier for yourself merely at the click of a button.
Sampling

Customisation

Custom Clearances

Logistics

First-mile delivery

Last-mile delivery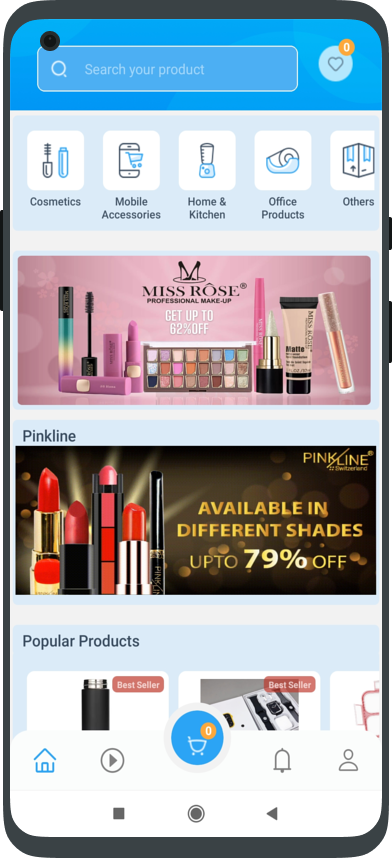 B2B MarketPlace
BEYOBO: Retailer App
BEYOBO app provides high-quality products in categories such as Cosmetics, Mobile Accessories, Fashion Accessories, Home & Kitchen, etc.Retailers can share catalogs through social media to their prospective clients. After receiving the confirmation, they can place order on Beyobo. They get variety of products which increases their profitability and help them in increasing their customer footfall.
E-Commerce Sellers
Buy Directly from Abroad
Online Sellers can source the material directly from foreign land with the help of Ensologic. Ensologic helps in customisation, sampling, price negotiation and all logistics related solutions. By improving sourcing online sellers can increase their profitability and enhance their visibility on ecommerce players like Flipkart and Amazon.
35000+
Registered Retailers
Got questions? We have answers for you.
What is Ensologic Commerce?
Ensologic Commerce is an innovative Cross Border Product Solution company, providing comprehensive and streamlined supply chain services for Indian manufacturers, E-Commerce, and wholesalers. We enable you to increase your reach and expand to the international market with ease.
How does Ensologic Commerce help Indian manufacturers, E-Commerce and wholesalers?
Ensologic Commerce provides a platform to streamline and enhance your international supply chain, allowing you to increase your reach and expand to the international market with ease. We make it easier for you to access global markets, allowing you to take your business to the next level.
What services does Ensologic Commerce provide?
Ensologic Commerce provides a full suite of services to help you get the most out of your international supply chain. We offer freight forwarding, customs clearance, warehousing, and reverse logistics services, as well as specialized services such as product sourcing and market research.
How does Ensologic Commerce ensure quality control?
Ensologic Commerce takes quality control very seriously. We use the latest technology and systems to track and monitor your shipments, and our team of experts will ensure that your goods are shipped safely and securely. We also provide quality control and inspection services to ensure that your goods meet the highest standards.